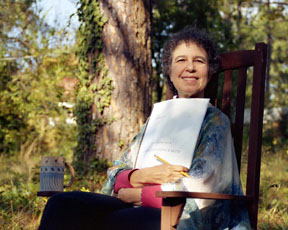 With a musical palette ranging from traditional Jewish prayer modes to minimalist textures with rich melodic contours, and from jazz-influenced rhythms to imaginative orchestrations of the natural world, composer Meira Warshauer's music has been performed live to critical acclaim and heard on broadcast and online media worldwide. In much demand for commissions, she writes for orchestras, chamber and vocal ensembles and soloists, as well as opera.
Meira's music expresses her personal spiritual journey and her love for the earth. As Music Web International wrote, "Warshauer's music is shot through with and inspired by mystical and spiritual matters that span a love and respect for Mother Earth and the Jewish faith." Review of Living Breathing Earth (NV5842)
Performers and commissioners of her music include Dayton Philharmonic (OH), Allentown Symphony (PA), Slovak Radio Symphony, Orchestra Warsaw National Philharmonic, Moravian Philharmonic, South Carolina Philharmonic, Charleston Symphony, Los Angeles Jewish Symphony, Hudson Valley Philharmonic (NY), Indiana State University Orchestra, Western Piedmont Symphony (NC); choruses Zamir Chorale of Boston, Rottenberg Chorale (NYC), Colla Voce (SC); ensembles Jerusalem Lyric Trio, Kaleidoscope Ensemble (U.K.),  Arioso Ensemble (AK), Upton Trio, Cross Island, North South Consonance (NYC), Cello8ctet Amsterdam, Lomazov/Rackers Piano Duo, Kobayashi-Grey duo, Opus Two, CUBE Contemporary Music Ensemble (Chicago); and soloists Paula Robison, Richard Stoltzman, Daniel Heifetz, Paul Lustig Dunkel, Haim Avitsur, Janet Hopkins, Mariya Kaganskaya, Ina Esther Joost, Richard Nunemaker, and Robert Jesselson. For the San Francisco premiere of her family chamber opera, Elijah's Violin, she collaborated with stage director Yefim Maizel and music director Jonathan Khuner.
Tekeeyah (a call), the first Concerto for shofar, trombone, and orchestra, commissioned and premiered by a five-orchestra consortium in Ohio, and North and South Carolina, was paired with the American Prize-winning Symphony No. 1: Living, Breathing Earth (a three-orchestra commission) for Navona Records' acclaimed 2011 release, Living Breathing Earth (NV5842). Hadassah Magazine wrote "Symphony No.1: Living Breathing Earth" is a shimmering, joyous and soothing ode to the world's beauty…" Both works have been broadcast repeatedly on Performance Today, and Aileen LeBlanc's profile of the Symphony was aired twice on Public Radio International's Living on Earth. Call of the Cicadas, a stand-alone movement from the Symphony, was featured in the Allentown Symphony's "Go Green" concert honoring the 50th anniversary of Earth Day in spring 2020.
Streams in the Desert, an all-Warshauer CD of music for orchestra and chorus inspired by the Torah includes Shacharit (Sabbath Morning Service), Ahavah (Love) (commissioned by SC Philharmonic) and Like Streams in the Desert  (commissioned by Dayton Philharmonic).  Recorded in Bratislava by Kirk Trevor and the Slovak Radio Symphony Orchestra and Symphony Chorus, the Albany Records CD (Troy 973) has received wide praise. Choral works Akhat Sha'alti (One Thing I Ask) and Oseh Shalom (Maker of Peace) were part of the 2017 Ansonica CD release Chévere, and a second Ansonica CD Coro del Mundo (2018) featured We Are Dreamers. Both were recorded by Schola Coralina in Havana, Cuba.
For other recordings, please visit the discography page on her website: meirawarshauer.com/recordings/.
Warshauer has received Residency Fellowships from the MacDowell Colony and Georgia's Hambidge Center, and two Artist Fellowships in Music Composition from the South Carolina Arts Commission. The S.C. Music Teachers Association selected Meira as Commissioned Composer for 2012, and together with the Music Teachers National Association, supported Ocean Calling II: From the Depths, for two pianos. Spirals of Light for flute, cello, and piano, commissioned by Columbia College, was a winner in the 2017 National Flute Association's Newly Published Music Competition, and Symphony No. 1 Living Breathing Earth received a 2019 American Prize for Orchestra Composition. The International Alliance for Women in Music granted its 2004 Miriam Gideon award to Yishakeyni (Sweeter than Wine), commissioned by the Jerusalem Lyric Trio. Other awards have come from ASCAP, Meet the Composer, and the American Music Center.
Meira has developed a power point lecture titled "For the Love of Earth" highlighting her concern for the planet as expressed through her music, which she presents for student and community groups. The South Carolina Sierra Club named her a  "Silent Footprinter" in 2016 for her work opposing off-shore drilling along the Carolina coast
A graduate of Harvard magna cum laude, New England Conservatory with honors, and University of South Carolina, where she received her DMA, Dr. Warshauer has served on the faculties of Columbia College, University of South Carolina Honors College, Midlands Technical College, and as the Nancy A. Smith Distinguished Visitor at Coastal Carolina University. Her music is published by Lauren Keiser Music Publishing, Hildegard Publishing Company, World Music Press/Plank Road Publishing, and Kol Meira Publications. The Wilmington, NC native divides her time between Columbia, SC  and Wrightsville Beach, NC.
For more information, visit meirawarshauer.com.
For more about the family opera, Elijah's Violin, visit elijahsviolin.com.
 780 words (bio with links)
October, 2022